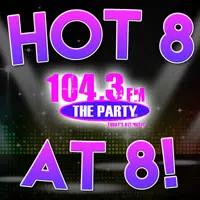 Happy Hump Day!!! The week is already half way gone and time for your mid-point Hot 8@8 Countdown with Smoky's House BBQ in Charleston!!! Last night was another big night for The Weeknd and Daft Punk for their collaboration for "Starboy" took the top spot for the 5th night in a row, can they make it another? Check out tonight's results below….
8. "All Time Low" – Jon Bellion 
7. "Kiss the Sky" – Jason Derulo 
4. "The Greatest" – Sia feat. Kendrick Lamar 
3. "Side to Side" – Ariana Grande feat. Nicki Minaj 
1. "Starboy" – The Weeknd feat. Daft Punk
Still not backing down an inch! However, Bruno Mars just may be able to give The Weeknd a run for his money….Please remember to vote each and every weeknight. By voting you help determine what hot new singles make the show. You can do so when voting opens at 5 PM…Call 217-844-HITS, text 217-218-0288, or leave your vote at The Party's Facebook Page!