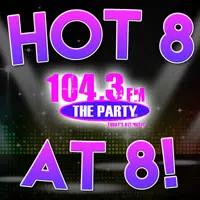 It's time for your Throwback Thursday Hot 8@8 Countdown with Smoky's House BBQ in Charleston for the week which means we will have an old school track in reverse for Pop Culture Trivia! Last night another strong night for the latest from The Weeknd and Daft Punk, 6 nights in total thus far, can they go for 7 nights? Find out what you helped decide below…also a fairly high debut tonight as well!
8. "Kiss the Sky" – Jason Derulo 
6. "Don't Wanna Know" – Maroon 5 feat. Kendrick Lamar (Debut!)
4. "Side to Side" – Ariana Grande feat. Nicki Minaj 
3. "The Greatest" – Sia feat. Kendrick Lamar 
1. "Starboy" – The Weeknd feat. Daft Punk 
Another night at #1 for "Starboy" and two entries featuring Kendrick Lamar! Anything can happen with the show and remember  you can help decide what songs make the cut nightly. Please remember to cast your vote every single weeknight beginning at 5 PM. Just call 217-844-HITS, text 217-218-0288, or leave your vote online at our Party Facebook Page!