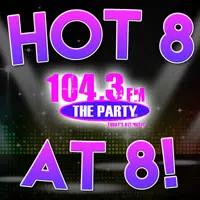 Waited all week just to say It's Friday!!! Another week down and just one more week to go until Halloween! Anyway's, it's time for your final Hot 8@8 Countdown for the week of October 17th through the 21st with Smoky's House BBQ in Charleston and we have a re-entry on the show tonight, the 2nd time this song has re-entered the show just this week! The big question for the week remains the same however, will The Weeknd and Daft Punk remain victorious??? Check out tonight's results below….
8. "All Time Low" – Jon Bellion (Re-Entry!)
5. "Don't Wanna Know" – Maroon 5 feat. Kendrick Lamar 
4. "Side to Side" – Ariana Grande feat. Nicki Minaj 
3. "The Greatest" – Sia feat. Kendrick Lamar 
1. "Starboy" – The Weeknd feat. Daft Punk 
The answer is YES! 8 nights down at number one and the second week closing out the week at #1! As always, the show will resume on Monday so if you want to keep the top song the same or change it, please remember you can help decide. Be sure to cast your ballot again when lines open at 5 PM weeknights. Call 217-844-HITS, text 217-218-0288, or leave your request at The Party's Facebook Page!