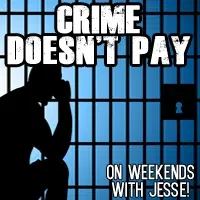 A 36-year-old guy named Louis Haines got pulled over back in April, about 40 miles northwest of Orlando.  And when the cops asked him to get out of the car, he reached for something.
So they YANKED him out . . . but he got loose and tried to run.  Then they tased him and put him in handcuffs.
It turned out he had some pot in his car, so they charged him with possession of marijuana, drug paraphernalia, and resisting arrest.  And he was in court on Monday dealing with it.
But when the judge decided to revoke his bond, and told cops to take him into custody . . . he tried to run AGAIN.
He bolted out of the courtroom . . . ran through the building . . . and got caught right before he made it to an exit.
So now he's facing ANOTHER charge for resisting arrest.