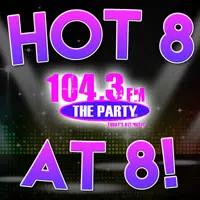 Happy Hump Day! Already Wednesday and time once again for the Hot 8@8 Countdown with Smoky's House BBQ in Charleston!!! Last night we saw another night being dominated by The Weeknd and Daft Punk, making their stay at #1 10 nights consecutively, can they go for 11? Check out tonight's results below and also one new entry as well….
8. "That's My Girl" – Fifth Harmony (Debut!)
6. "All Time Low" – Jon Bellion
5. "The Greatest" – Sia feat. Kendrick Lamar
4. "Don't Wanna Know' – Maroon 5 feat. Kendrick Lamar
3. "Side to Side" – Ariana Grande feat. Nicki Minaj
2. "Starboy" – The Weeknd feat. Daft Punk
That's right, a brand new #1 tonight!!! After nights just trailing the top spot, Bruno Mars steals it! However, the Weeknd could easily reclaim it, please help decide, VOTE. You can do so each and every weeknight beginning at 5 PM by calling 217-844-HITS, texting 217-218-0288, or leaving  your vote at The Party's Facebook Page!