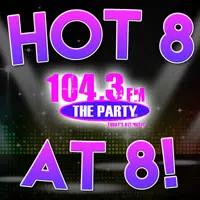 HAPPY HALLOWEEN!!! Welcome to a spooky edition of the Hot 8@8 Countdown with Smoky's House BBQ in Charleston which happens to be the first for the week and the last for October! When we wrapped up the show on Friday night Bruno Mars held onto the top spot for the 3rd night in a row. Has your votes helped enough to keep him in the same spot? Check out tonight's results below….
8. "That's My Girl" – Fifth Harmony 
7. "Don't Wanna Know" – Maroon 5 feat. Kendrick Lamar 
5. "All Time Low" – Jon Bellion 
4. "Starboy" – The Weeknd feat. Daft Punk 
3. "The Greatest" – Sia feat. Kendrick Lamar 
2. "Side to Side" – Ariana Grande feat. Nicki Minaj 
The magic proves it has staying power! Another night at the top for Bruno Mars, he starts the week off strong but can he start the new month off strong? Please remember to cast your ballot starting at 5 PM. Call 217-844-HITS, text 217-218-0288, or leave your request at The Party's Facebook Page!