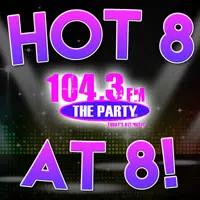 Another Monday, and another night of the Night Club with Carman coming your way! Hope you had an enjoyable weekend and were able to do some outdoor activities with the gorgeous weather we saw! Anyways, now that it's back to another work week, we have to kick it off with The Hot 8@8 Countdown with Smoky's House BBQ in Charleston! A little refresher from where we saw the show on Friday Night, for the second night in a row newcomer Julia Micheals has had the #1 spot on the countdown with "Issues", find out below if she can go a third night and also no new entries as we kick off a fresh week either….
8. "Call on Me" – Starley
7. "Say You Won't Let Go" – James Arthur
6. "Everyday" – Ariana Grande feat. Future
5. "Paris" – The Chainsmokers
4. "Down" – Marian Hill
3. "Chained to the Rhythm" – Katy Perry feat. Skip Marley
2. "That's What I Like" – Bruno Mars
1. "Issues" – Julia Michaels
It's a new week and you're still loving "Issues", it continues it's reign at the top! Please remember your votes can help determine the outcome each and every weeknight beginning at 5 PM. Be sure to get your vote in by either calling 217-844-HITS, texting 217-218-0288, or leaving  your vote at The Party's Facebook Page!