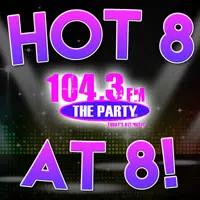 The best phrase of the week…Finally Friday!!! Welcome back to The Night Club with Carman and it's your final Hot 8@8 Countdown with Smoky's House BBQ in Charleston for the week of February 20th through the 24th. It's been a very interesting week on the show because three songs have seen the number one spot!
First it was "Issues" from Julia Michaels Monday night, the next two nights it was Bruno Mars with "That's What I Like", then last night we crowned a new song at the top…"Down" from newcomer Marian Hill! Anything can happen with the countdown so did you help place Marian at the top for a second night? Check out tonight's results and we do see a new entry kicking off the countdown at #8 as well….
8. "Cold" – Maroon 5 feat. Future (Debut!)
7. "Everyday" – Ariana Grande feat. Future
6. "That's What I Like" – Bruno Mars
5. "Say You Won't Let Go" – James Arthur
4. "Call on Me" – Starley
3. "Chained to the Rhythm" – Katy Perry feat. Skip Marley
2. "Issues" – Julia Michaels
1. "Down" – Marian Hill
Two nights and counting now for "Down", that's where Marian Hill will close out the week, but can she continue her reign when the show resumes on Monday Night? Please remember every weeknight from 5-7:30 PM, you have the power to help determine the outcome. Please let us know what your favorite new single is by either calling 217-844-HITS, texting 217-218-0288, or leaving your vote at The Party's Facebook Page!