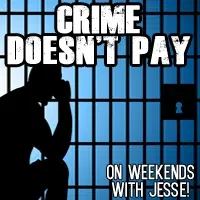 Cops really never know what they're going to encounter in a day.  I'm sure sometimes it's all traffic tickets and paperwork . . . and then, some days, you find yourself fighting with a giant man with two armfuls of women's underwear.
A cop in Winter Garden, Florida named Jose Rivera got a call from a Victoria's Secret on Tuesday afternoon about a guy shoplifting.
And when he got there, he found a 23-year-old guy named Algernon Baker running off with $750 worth of women's underwear.
Jose chased him down, which wasn't SUPER tough since Algernon was 5-foot-6 and 300 pounds.  But when they started wrestling, Algernon's weight turned into a WEAPON . . . and he BROKE Jose's kneecap.
Fortunately some backup arrived and they arrested Algernon.
Jose went to the hospital to get treatment on his knee.