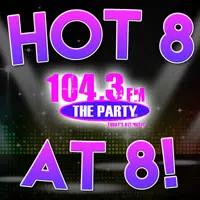 Happy Hump Day and Happy March 1st! Can't believe two months are down already for 2017, it's crazy! Anyways, it's back to another Hot 8@8 Countdown with Smoky's House BBQ in Charleston all part of the Night Club with Carman and the big question, could we have a new #1 as we kick off the new month? For the past four nights Marian Hill and "Down" has been the song to beat. Can she go a 5th night in a row? Check out your results and we have no new entries tonight either.
8. "Heavy" – Linkin Park feat. Kiiara
7. "Call on Me" – Starley
6. "It Ain't Me" – Kygo feat. Selena Gomez
5. "Cold" – Maroon 5 feat. Future
4. "Everyday" – Ariana Grande feat. Future
3. "Issues" – Julia Michaels
2. "Down" – Marian Hill
1."Chained to the Rhythm" – Katy Perry feat. Skip Marley
A new month and a new #1??!! Yes, Katy Perry has taken over the top spot and knocked down Marian by one! Comes to show you anything can happen with this countdown! Please remember you can help decide how the songs fall each and every weeknight; just be sure to cast your ballot from 5-7:30 PM weekdays by calling 217-844-HITS, texting 217-218-0288, or leaving your vote at The Party's Facebook Page!