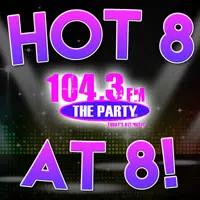 Happy Thursday! Welcome back to another night here in The Night Club with Carman, and it's my favorite night of the week… your Throwback Thursday edition of The Hot 8@8 Countdown with Smoky's House BBQ in Charleston!!! So of course we will have an old school track backwards for Pop Culture Trivia! Now last night we saw a new song take over the #1 spot….Katy Perry and Skip Marley with "Chained to the Rhythm", can Katy hold on or could Marian Hill reclaim her title??? Check out what you helped decide tonight and also we have one song reappearing on the show too!
8. "Say You Won't Let Go" – James Arthur (Re-Entry!)
7. "Heavy" – Linkin Park feat. Kiiara
6. "Issues" – Julia Micheals
5. "Everyday" – Ariana Grande feat. Future
4. "It Ain't Me" – Kygo feat. Selena Gomez
3. "Cold" – Maroon 5 feat. Future
2. "Chained to the Rhythm" – Katy Perry feat. Skip Marley
1."Down" – Marian Hill
WHAT?! Just one night only? Katy Perry already knocked back a space to make room for Marian Hill to reclaim the top spot with "Down!". The past few weeks on the countdown have certainly been interesting. If you want to see how the show ends for the week tomorrow night, remember phone lines open at 5 PM once again for voting. Cast your ballot by either calling 217-844-HITS, texting 217-218-0288, or leaving your vote at The Party's Facebook Page!