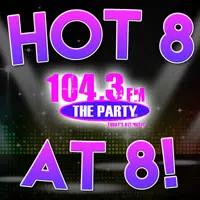 Another week gone by too soon, but on the flip side…It's Finally Friday!!! The Night Club with Carman has opened it's doors once again and of course what else would come with it, other than another Hot 8@8 Countdown with Smoky's House BBQ in Charleston!!! The last couple of weeks the countdown has been interesting for we have seen many songs reach number one. This week in particular…It's been a battle between Marian Hill's "Down" and Katy Perry's "Chained to Rhythm." What lady will come out victorious to end the week on? Check out tonight's results!
8. "Issues" – Julia Micheals
7. "Say You Won't Let Go" – James Arthur
6. "Heavy" – Linkin Park feat. Kiiara
5. "Everyday" – Ariana Grande feat. Future
4. "Cold" – Maroon 5 feat. Future
3. "It Ain't Me" – Kygo feat. Selena Gomez
2. "Chained to the Rhythm" – Katy Perry feat. Skip Marley
1."Down" – Marian Hill
And the champ to end the show on Friday is Marian Hill! That marks her 6th night in the top spot, since entering the countdown a few weeks ago. Please remember to keep it or change it when the show resumes Monday Night, you have to be sure to VOTE! Please be sure to tell us your favorite new song each and every weeknight between 5-7:30 PM. Call 217-844-HITS, text 217-218-0288, or leave your vote at The Party's Facebook Page!