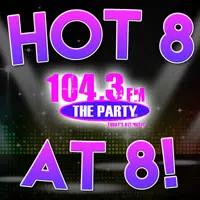 Happy Monday! Hope you had a fantastic weekend and Carman wants to say Thank You, Thank You, Thank You again for your support for The Annual Law Enforcement Torch Run Polar Plunge! The Party took the plunge once again and raised $4,777 for Special Olympics of Illinois. Thanks again for your support! 🙂
Anyway's it's back to another night here in the club and what comes with it other than another Hot 8@8 Countdown with Smoky's House BBQ in Charleston! Now the last few weeks it's been interesting for many songs have seen the #1 spot, and when we left the show Friday night it was Marian Hill with "Down" as the song to beat. Can she kick off a new week in the same position??? Check out what your votes helped decide, and also for being a new week, we have 2 new songs making an appearance on the show too!
8. "Bounce Back" – Big Sean (Debut!)
7. "Something Just Like This" – Chainsmokers feat. Coldplay (Debut!)
6. "Everyday" – Ariana Grande feat. Future
5. "Heavy" – Linkin Park feat. Kiiara
4. "Cold" – Maroon 5 feat. Future
3. "It Ain't Me" – Kygo feat. Selena Gomez
2. "Down" – Marian Hill
1."Chained to the Rhythm" – Katy Perry feat. Skip Marley
Katy Perry saw her new single at #1 last Wednesday, but once again she has taken Marian Hill's "Down", well down once again and spends a second time at the top on the countdown! Please remember you help determine the outcome each and every weeknight. Please remember to cast your ballot every weeknight from 5-7:30 PM by calling 217-844-HITS, texting 217-218-0288, or leave your vote at The Party's Facebook Page!