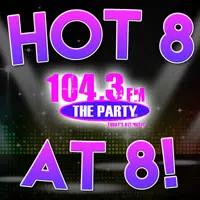 Happy Tuesday! Welcome back to The Night Club with Carman and of course what comes with it, than another Hot 8@8 Countdown with Smoky's House BBQ in Charleston!!! Now last night, we saw Katy Perry kick off the week for she took over the top spot with "Chained to the Rhythm", can she continue her dominance at #1? Check out your results and also one new entry kicking off the countdown tonight!
8. "Stay" – Zedd feat. Alessia Cara (Debut!)
7. "Something Just Like This" – Chainsmokers feat. Coldplay
6. "Heavy" – Linkin Park feat. Kiiara
5. "Everyday" – Ariana Grande feat. Future
4. "It Ain't Me"- Kygo feat. Selena Gomez
3. "Down" – Marian Hill
2. "Cold" – Maroon 5 feat. Future
1."Chained to the Rhythm" – Katy Perry feat. Skip Marley
The Rhythm stays in sync, Katy and Skip steal the top spot for a second night in a row on the show! Now remember, that's her third time in total at #1 with that track, for it managed to grab #1 one day last week as well. Please remember you help control the show! Please be sure to cast your ballot each and every weeknight by calling 217-844-HITS, texting 217-218-0288, or leaving your vote at The Party's Facebook Page!