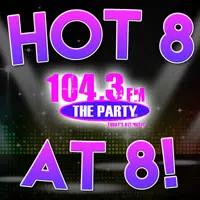 Already Thursday?! Welcome back to The Night Club with Carman, and it's time once again for my favorite edition of The Hot 8@8 Countdown with Smoky's House BBQ in Charleston throughout the entire week….your Throwback Thursday show! Which means, for Pop Culture Trivia, an old school tune reversed! Now for the past 3 nights the song proving to be unstoppable is Katy Perry and Skip Marley's "Chained to the Rhythm", can the two go for another round at the top? Check out what your votes helped decide tonight, and once again no new entries tonight either….
8. "Everyday" – Ariana Grande feat. Future
7. "Stay" – Zedd feat. Alessia Cara
6. "Down" – Marian Hill
5. "Heavy" – Linkin Park feat. Kiiara
4. "Something Just Like This" – Chiansmokers feat. Coldplay
3. "Cold" – Maroon 5 feat. Future
2. "It Ain't Me" – Kygo feat. Selena Gomez
1."Chained to the Rhythm" – Katy Perry feat. Skip Marley
The "chain" is almost a week complete! Tomorrow could mark a 5th night if you keep that possible fate in the cards. Please remember you help determine the outcome, you have the power to determine what songs get played in each slot each and every weeknight for the countdown! Please be sure to cast your ballot once again when voting opens at 5 PM. Be sure to call 217-844-HITS, text 217-218-0288, or leave your vote at The Party's Facebook Page!