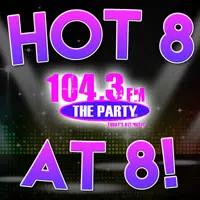 Another week has flown by way to quickly, but always exciting in the same to say Finally Friday!!! Welcome to your final Hot 8@8 Countdown for the week of March 6th through the 10th with Smoky's House BBQ in Charleston all part of The Night Club with Carman!!! All this week, there has been no breaking the "chain" Katy Perry and Skip Marley have created because their smash has been #1, can the two go a solid week, 5 nights in a row at the top? Check out tonight's results and also one new entry to kick the show off as well….
8. "Scared to be Lonely" – Martin Garrix feat. Dua Lipa (Debut!)
7. "Down" – Marian Hill
6. "Stay" – Zedd feat. Alessia Cara
5. "Heavy" – Linkin Park feat. Kiiara
4. "Something Just Like This" – Chainsmokers feat. Coldplay
3. "It Ain't Me" – Kygo feat. Selena Gomez
2. "Cold" – Maroon 5 feat. Future
1. "Chained to Rhythm" – Katy Perry feat. Skip Marley
The Rhythm stay in tact, a fifth night in a row, the sixth time ever, at #1 on The Hot 8@8! Please remember you can help determine what happens on the show when the countdown continues on Monday. Please be sure to cast your ballot when lines open once again at 5 PM. Call 217-844-HITS, text 217-218-0288, or leave your vote at The Party's Facebook Page!