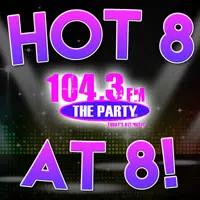 Once again, it's time to kick off a brand new week of The Hot 8@8 Countdown with Smoky's House BBQ in Charleston!!! After all…It's Monday! Hopefully all your clocks are set ahead by an hour and you're adjusting well to the new time change.
Now that it's back here in The Night Club with Carman, however your nightly tradition continues and in case you need a little refresher where we left the songs on Friday Night, the song to beat was Katy Perry and Skip Marley's "Chained to the Rhythm", that spent it's 5th night in a row Friday at the top. Can the two kick off a new week in the same spot??? Check out what you helped decide and we also have one new entry kicking off the show tonight….
8. "Greenlight" – Lorde (Debut!)
7. "Scared to be Lonely" – Martin Garrix feat. Dua Lipa
6. "Stay" – Zedd feat. Alessia Cara
5. "Heavy" – Linkin Park feat. Kiiara
4. "Cold" – Maroon 5 feat. Future
3. "Something Just Like This" – Chainsmokers feat. Coldplay
2. "Chained to the Rhythm" – Katy Perry feat. Skip Marley
1."It Ain't Me" – Kygo feat. Selena Gomez
The countdown is dominated by collaborations right now, and tonight we see a new one taking over the top spot! For the first time Kygo and Selena grab #1 with "It Ain't Me", if they hang on another night, that is completely up to you! Please remember you help determine the outcome by casting your vote each and every weeknight by calling 217-844-HITS, texting 217-218-0288, or leaving your vote at The Party's Facebook Page!