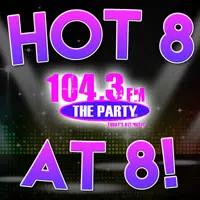 Happy Tuesday! Welcome back to The Night Club with Carman and once again it's time for The Hot 8@8 Countdown with Smoky's House BBQ in Charleston! Now last night, kicking off a brand new week, we had a new song reach #1. For the first time on the show the song to beat is Kygo and Selena Gomez's "It Ain't Me", can the two claim the top spot for a second night? Check out what you helped decide….
8. "Scared to be Lonely" – Martin Garrix feat. Dua Lipa
7. "Greenlight" – Lorde
6. "Stay" – Zedd feat. Alessia Cara
5. "Chained to the Rhythm" – Katy Perry feat. Skip Marley
4. "Heavy" – Linkin Park feat. Kiiara
3. "Cold" – Maroon 5 feat. Future
2. "Something Just Like This" – Chainsmokers feat. Coldplay
1."It Ain't Me" – Kygo feat. Selena Gomez
For the first time in quite some time, the countdown is dominated by collaborations! However, for the second night in a row that #1 spot belongs to Kygo and Selena. Tomorrow you have the power to determine how the songs fall, please remember to cast your ballot from 5-7:30 PM. As always your can call 217-844-HITS, text 217-218-0288, or leave your vote at The Party's Facebook Page!