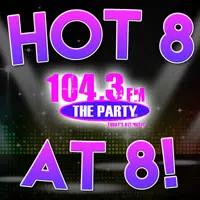 It's Hump Day! Happy Wednesday, and welcome back to another night here in the club with Carman! Of course, it's not The Night Club without another edition of The Hot 8@8 Countdown with Smoky's House BBQ in Charleston, so here we go! For the last two nights the song to beat and keep an eye on is "It Ain't Me" from Kygo and Selena Gomez. Right now the show is dominated by collaborations, so can the two hold on or has a new set of duet partners taken over??? See what you helped decide and also tonight no new entries either….
8. "Chained to the Rhythm" – Katy Perry feat. Skip Marley
7. "Scared to be Lonely" – Martin Garrix feat. Dua Lipa
6. "Greenlight" – Lorde
5. "Heavy" – Linkin Park feat. Kiiara
4. "Stay" – Zedd feat. Alessia Cara
3. "Cold" – Maroon 5 feat. Future
2. "Something Just Like This" – Chainsmokers feat. Coldplay
1."It Ain't Me" – Kygo feat. Selena Gomez
That's three nights and the count continues for Kygo and Selena! Please remember you can determine where the songs fall each and every weeknight from 5-7:30 PM, please be sure to cast your ballot by calling 217-844-HITS, texting 217-218-0288, or leaving your vote at The Party's Facebook Page!