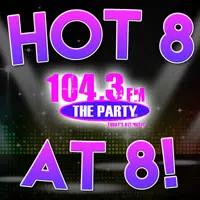 Happy Throwback Thursday! It's The Night Club with Carman and we have once again reached your Hot 8@8 Countdown with Smoky's House BBQ in Charleston! Of course, we will have an old school song reversed for Pop Culture Trivia but could we have a new #1 tonight? For the past three, it's been "It Ain't Me" from Kygo and Selena. Check out tonight's results and also one re-entry as well!
8. "Bounce Back" – Big Sean (Re-Entry!)
7. "Scared to be Lonely" – Martin Garrix feat. Dua Lipa
6. "Greenlight" – Lorde
5. "Cold" – Maroon 5 feat. Future
4. "Stay" – Zedd feat. Alessia Cara
3. "Heavy" – Linkin Park feat. Kiiara
2. "Something Just Like This" – Chainsmokers feat. Coldplay
1."It Ain't Me" – Kygo feat. Selena Gomez
Four nights that makes their stay now, can they go for five tomorrow??? Please remember you can help determine the outcome! Please be sure to tell us what you want to hear by casting your vote from 5-7:30 PM. Call 217-844-HITS, text 217-218-0288, or leave your vote at The Party's Facebook Page!