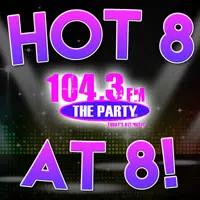 My favorite day of the week…Friday!!! Happy St. Patrick's Day and welcome back to another night of The Night Club with Carman and the nightly tradition that comes with…your Hot 8@8 Countdown with Smoky's House BBQ in Charleston!!! All week the song that's been the one to beat is Kygo and Selena Gomez's "It Ain't Me." Can the two go a solid week at the top, or will something new prevail??? Check out what you helped decide and also no new entries on the show either…..
8. "Bounce Back" – Big Sean
7. "Cold" – Maroon 5 feat. Future
6. "Scared to be Lonely" – Martin Garrix feat. Dua Lipa
5. "Greenlight" – Lorde
4. "Stay" – Zedd feat. Alessia Cara
3. "Heavy" – Linkin Park feat. Kiiara
2. "It Ain't Me" – Kygo feat. Selena Gomez
1."Something Just Like This" – Chiansmokers feat. Coldplay
WHAT??? Already a new #1!!?? Just a few weeks ago Chainsmokers had "Paris" at #1 on the show, and they already have another one on their hands with "Something Just Like This" along with Coldplay! They are pretty unstoppable right now. If you would like to see Alex, Drew, and Coldplay score a second night on the show at the top when the countdown continues Monday Night, please remember to cast your vote! Do so from 5-7:30 PM every weeknight by calling 217-844-HITS, texting 217-218-0288, or leaving your vote at The Party's Facebook Page!