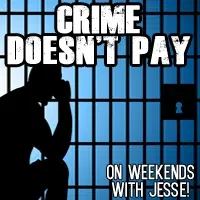 If only this guy just would've been satisfied being the poop king of Pittsburgh, he wouldn't be in any trouble right now.
There's a 54-year-old girl named Christopher Diiorio from a suburb of Pittsburgh called Greensburg, and he owns a company called Doodle Scoopers that picks up dog poop from people's yards.  And apparently, it's really successful.
But it's still not SEXY.  So when Christopher got into online dating, he decided to up his game by claiming he was a Secret Service agent.
But even after he met a woman online and married her, he kept the Secret Service lie going.  He bought a fake badge from China . . . and when a cop pulled him over last year, he actually flashed the badge.
That kicked off an investigation, and Christopher was arrested and charged with fraudulently using an official seal.
He pleaded guilty, and on Monday, he was sentenced to two years of probation and a $500 fine.  Wow did he get off light.  I bet he can scoop up that much cash in a few hours.