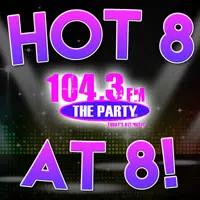 Happy Monday and fist day of Spring!!! A gorgeous day it was to kick off the new season! Hope you had a fantastic weekend, and now that it's back to another work week we're kicking off a brand new week of the Hot 8@8 Countdown with Smoky's House BBQ in Charleston all part of The Night Club with Carman!
Now a little refresher from where we left the show Friday night, for the first time Chainsmokers and Coldplay took over the top spot with "Something Just Like This", knocking Kygo and Selena's "It Ain't Me" down to #2, so check out tonight's results and see what took the top spot, and also one new entry getting things started at #8 as well!
8. "Cake" – Flo Rida feat. 99 Percent (Debut!)
7. "Bounce Back" – Big Sean
6. "Heavy" – Linkin Park feat. Kiiara
5. "Greenlight" – Lorde
4. "Cold" – Maroon 5 feat. Future
3. "Stay" – Zedd feat. Alessia Cara
2. "Something Just Like This" – Chainsmokers feat. Coldplay
1."It' Ain't Me" – Kygo feat. Selena Gomez
Just one night for Alex & Drew and Coldplay???!!! A little shocking I have to say, but anything can happen on this show. However, as we kick off a new season, Kygo and Selena reclaim #1! They spent 4 nights there last week. Please remember you can help determine how the songs place each and every weeknight by voting. Please be sure to do so from 5-7:30 PM weeknights by calling 217-844-HITS, texting 217-218-0288, or leaving your vote at The Party's Facebook Page!