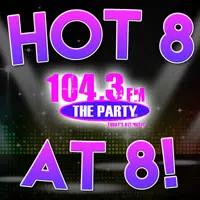 Happy Tuesday! Welcome back to another night here in The Night Club with Carman and once again we count down the Hot 8@8 Countdown with Smoky's House BBQ in Charleston! Now last night, pretty interesting as we kicked off a new week on the show because Kygo and Selena Gomez reclaimed their #1 title, they were there Monday through Thursday last week, but got knocked down a space Friday. Can they go another night and make their #1 stay 6 nights in total? Check it out and also no new entries tonight either….
8. "Bounce Back" – Big Sean
7. "Cake" – Flo Rida feat. 99 Percent
6. "Heavy" – Linkin Park feat. Kiiara
5. "Cold" – Maroon 5 feat. Future
4. "Greenlight" – Lorde
3. "Stay" – Zedd feat. Alessia Cara
2. "Something Just Like This" – Chainsmokers feat. Coldplay
1."It Ain't Me" – Kygo feat. Selena Gomez
That's another night for the duet partners, please remember you can determine the outcome of the countdown each and every weeknight. Please be sure to vote! You can do so from 5-7:30 PM. Just simply call 217-844-HITS, text 217-218-0288, or leave your vote at The Party's Facebook Page!