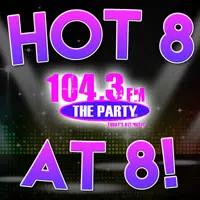 Once again, Happy Hump Day! Another Wednesday upon us and as Carman here likes to call Wednesday's show…it's your Midpoint Hot 8@8 Countdown for the week with Smoky's House BBQ in Charleston!!! The past two nights the song at #1 has been Kygo and Selena Gomez with "It Ain't Me", however Chainsmokers and Coldplay have been right behind, for the two songs have been kind of at a battle for the #1 song. Find out what your votes helped determine below!
8. "Bounce Back" – Big Sean
7. "Heavy" – Linkin Park feat. Kiiara
6. "Cake" – Flo Rida feat. 99 Percent
5. "Cold" – Maroon 5 feat. Future
4. "Stay" – Zedd feat. Alessia Cara
3. "Greenlight" – Lorde
2. "It Ain't Me" – Kygo feat. Selena Gomez
1."Something Just Like This" – Chainsmokers feat. Coldplay
Well, it happened again, Chainsmokers and Coldplay reclaim the #1 spot on the show, they were there this past Friday as well! Anything can happen on this particular countdown because you are in control, please remember you help determine your favorite new songs fate by casting your votes! You can do so Monday through Friday from 5-7:30 PM by either calling 217-844-HITS, texting 217-218-0288, or leaving your vote at The Party's Facebook Page!