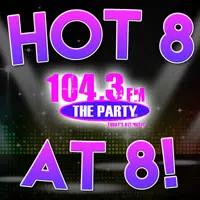 Once again, we've reached your Throwback Thursday edition of the Hot 8@8 Countdown with Smoky's House BBQ in Charleston all part of The Night Club with Carman!!! Of course that means for Pop Culture Trivia it can only mean one thing, an old school track backwards, and of course it's not a show without revealing your favorite songs right now! Last night we saw Chainsmokers and Coldplay reclaim the #1 spot with "Something Just Like This", check out below to see if you placed them there once again, and also one new entry kicking us off as well!
8. "Slide" – Calvin Harris feat. Frank Ocean & Migos (Debut!)
7. "Bounce Back" – Big Sean
6. "Cake" – Flo Rida feat. 99 Percent
5. "Cold" – Maroon 5 feat. Future
4. "Stay" – Zedd feat. Alessia Cara
3. "It Ain't Me" – Kygo feat. Selena Gomez
2. "Greenlight' – Lorde
1."Something Just Like This" – Chainsmokers feat. Coldplay
That's two nights in row, a third night in total on the show for "Something Just Like This" being #1!!! If you would like to see them there on Friday and close out the week in a great position, please remember to cast your ballot once again from 5-7:30 PM. Call 217-844-HITS, text 217-218-0288, or leave your vote at The Party's Facebook Page!