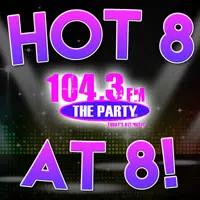 Somehow we have made it through another work week, and it's time for your final Hot 8@8 Countdown with Smoky's House BBQ in Charleston for the week of March 20th through March 24th all part of The Night Club with Carman! For the past two nights the song at #1 has been "Something Just Like This" from Chainsmokers and Coldplay, can the two go a third night and close the week out strong? Check out what you helped determine below!
8. "Cake" – Flo Rida feat. 99 Percent
7. "Slide" – Calvin Harris feat. Frank Ocean & Migos
6. "Cold" – Maroon 5 feat. Future
5. "Bounce Back" – Big Sean
4. "It Ain't Me" – Kygo feat. Selena Gomez
3. "Stay" – Zedd feat. Alessia Cara
2. "Greenlight" – Lorde
1. "Something Just Like This" – Chainsmokers feat. Coldplay
Sure enough 3 nights in a row and not a bad place to be to head into the weekend! When the show continues on Monday, please be sure to vote from 5-7:30 by calling 217-844-HITS, texting 217-218-0288, or leave your vote at The Party's Facebook Page!