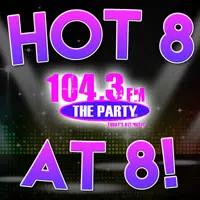 Happy Monday! Hope you had a stellar weekend, and now that it's back to another work week, we kick it all of here in The Night Club with The Hot 8@8 Countdown with Smoky's House BBQ in Charleston!!! Now a little recap from where we left the show Friday night, for the 3rd night in a row, 4 nights in total, The Chainsmokers and Coldplay were the ones to beat for "Something Just Like This" took #1. Check out tonight's results below and we have one new entry getting us started too!
8. "Swalla" – Jason Derulo feat. Nicki Minaj & Ty Dolla Sign (Debut!)
7. "Bounce Back" – Big Sean
6. "It Ain't Me" – Kygo feat. Selena Gomez
5. "Slide" – Clavin Harris feat. Frank Ocean & Migos
4. "Cake" – Flo Rida feat. 99 Percent
3. "Greenlight" – Lorde
2. "Stay" – Zedd feat. Alessia Cara
1."Something Just Like This" – Chainsmokers feat. Coldplay
It's a new week, but your love for The Chainsmokers & Coldplay hasn't escaped yet! Please remember every weeknight  you can help determine the outcome. Just be sure to cast your vote anytime between 5-7:30 PM by calling 217-844-HITS, texting 217-218-0288, or leaving your vote at The Party's Facebook Page!