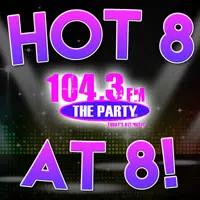 Already Wednesday?! Not sure how that's possible, but once again it's time for your mid-point Hot 8@8 Countdown for the week with Smoky's House BBQ in Charleston all part of The Night Club with Carman! Now last night for the 5th night in a row (6th night total) Chainsmokers and Coldplay once again proved they are dominating your votes by placing at the top on the countdown! Can they go another night??? Check out what you helped decide and also exciting to say we have one new entry entering at #8 as well….
8. "Waterfall" – Stargate feat. Sia & Pink! (Debut!)
7. "Swalla" – Jason Derulo feat. Nicki Minaj & Ty Dolla Sign
6. "Bounce Back" – Big Sean
5. "Slide" – Clavin Harris feat. Frank Ocean & Migos
4. "Cake" – Flo Rida feat. 99 Percent
3. "Greenlight" – Lorde
2. "Stay" – Zedd feat. Alessia Cara
1. "Something Just Like This" – Chainsmokers feat. Coldplay
That's 6 nights consecutively at #1!!! At this rate they just might go a full week at the top, please remember you help decide by casting your vote every weeknight from 5-7:30 PM CT. Please cast your vote by either calling 217-844-HITS, texting 217-218-0288, or leaving your vote at The Party's Facebook Page!