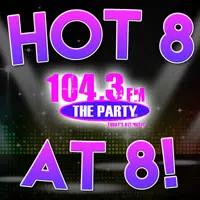 We've made it to Friday!!! Welcome back to The Night Club with Carman and we've got your final Hot 8@8 Countdown with Smoky's House BBQ in Charleston for not only the week, but the month of March as well!…Insanity, how quickly this year is flying! Anyway's last night we saw a brand new song take over the top spot "Stay" from Zedd and Alessia Cara check out tonight's results to see if the two can in fact "Stay" another night and close the month out strong!
8. "Swalla" – Jason Derulo feat. Nicki Minaj & Ty Dolla Sign
7. "Waterfall" – Stargate feat. Sia & Pink!
6. "Cake" – Flo Rida feat. 99 Percent
5. "Bounce Back" – Big Sean
4. "Slide" – Calvin Harris feat. Frank Ocean & Migos
3. "Greenlight" – Lorde
2. "Something Just Like This" – Chainsmokers feat. Coldplay
1. "Stay" – Zedd feat. Alessia Cara
"Stay" they did! The two hold off Chainsmokers and Coldplay from reclaiming their #1 title, and will head into the weekend at the top of the countdown! Please remember, when the show resumes Monday night, you have to be sure to cast your ballot. You can do so Monday through Friday from 5-7:30 PM by either calling 217-844-HITS, texting 217-218-0288, or leaving your vote at The Party's Facebook Page!