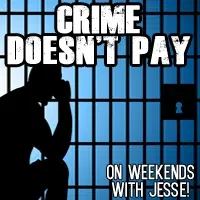 One nice thing about Triple-A is they'll help if you run out of gas in the middle of nowhere.  But if you don't want to pay that yearly membership fee, here's another option . . .
A guy named Troy James ran out of gas on a highway near Tulare, South Dakota around 4:00 A.M. Monday morning, and called the police for help.  (Tulare is about 120 miles northwest of Sioux Falls.) 
When a cop showed up, he noticed Troy was acting strange.  It's not clear if he was drunk or what, but he also had a weapon.  So the cop tried to take him into custody.
But Troy managed to push the cop out of his squad car and STOLE it.
He took off . . . left the cop on the side of the road . . . and wouldn't stop when another cop tried to pull him over.  So he ended up in a high-speed chase.
But luckily the whole thing resolved itself . . . because he ran out of gas AGAIN about 140 miles away, and was arrested.