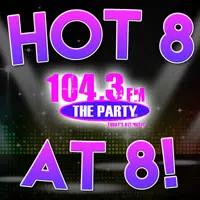 It's Monday and time for another week here in The Night Club with Carman!!! Hope you had a fantastic weekend, heard some great new songs, because now were finding out what your favorite tracks are with The Hot 8@8 Countdown with Smoky's House BBQ in Charleston;  your first show for April as well! Little recap from where we left the show on Friday night, for the 2nd night in a row, Zedd and Alessia Cara dominated the top spot with "Stay", can they start the new month and week off strong as well? Check out what you helped determine and also one new entry and one re-entry too!
8. "I Spy" – Kyle feat. Lil' Yachty (Debut!)
7. "Scared To Be Lonely" – Martin Garrix feat. Dua Lipa (Re-Entry!)
6. "Cake" – Flo Rida feat. 99 Percent
5. "Bounce Back" – Big Sean
4. "Slide" – Calvin Harris feat. Frank Ocean & Migos
3. "Stay" – Zedd feat. Alessia Cara
2. "Something Just Like This" – Chainsmokers feat. Coldplay
1. "Greenlight" – Lorde
After weeks of being stuck at the green, Lorde finally gets the official glow of the "Greenlight!" It makes a jump of two to grab the top spot for the first time on the countdown. It takes Zedd and Alessia down two spaces. Remember, anything can happen with this show so when voting opens again tomorrow from 5-7:30 PM, please remember to vote. Call 217-844-HITS, text 217-218-0288, or leave your vote at The Party's Facebook Page!