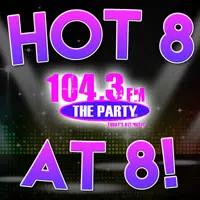 It's The Night Club with Carman and time for my favorite edition of the Hot 8@8 Countdown for the week…Your Throwback Thursday edition! Of course it's all courtesy of Smoky's House BBQ in Charleston, and that means for Pop Culture Trivia it's an old school track backwards, and you have to crack the code! So far this week, we've only seen one song claim #1…Lorde with "Greenlight", check out your results tonight to see if she goes a 4th night straight, also one new entry as well!
8. "At My Best" – Machine Gun Kelly feat. Hailee Steinfield (Debut!)
7. "Cake" – Flo Rida feat. 99 Percent
6. "Scared to be Lonely" – Martin Garrix feat. Dua Lipa
5. "Stay" – Zedd feat. Alessia Cara
4. "Slide" – Calvin Harris feat. Frank Ocean & Migos
3. "Bounce Back" – Big Sean
2. "Greenlight" – Lorde
1."Something Just Like This" – Chainsmokers feat. Coldplay
Chainsmokers and Coldplay continue to fight! You still can not get enough of the track, because it's back at #1. That's the third time the song has bounced back to #1 after being defeated, a rare defeat on the show! Comes to show, anything can happen when you help decide the results! Please be sure to vote for your Friday show tomorrow when voting re-opens starting at 5 PM. Call 217-844-HITS, text 217-218-0288, or leave your vote at The Party's Facebook Page!