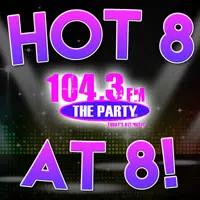 It's finally here…a little something known as THE WEEKEND!!! Welcome to The Night Club with Carman as we kick it all off with the weeknight tradition…Your Hot 8@8 Countdown with Smoky's House BBQ in Charleston!!! It's the final show for the week of April 3rd through the 7th. Now last night we saw a rare occurrence at the show…Chainsmokers and Coldplay reclaimed the #1 spot for the third time with "Something Just Like This!" You're not giving up on fighting for it to be #1, so see below if you were able to place it at the top again. Also tonight we have one re-entry on the show as well….
8. "Swalla" – Jason Derulo feat. Nicki Minaj & Ty Dolla Sign (Re-entry!)
7. "At My Best" – Machine Gun Kelly feat. Haliee Steinfield
6. "Stay" – Zedd feat. Alessia Cara
5. "Scared to be Lonely" – Martin Garrix feat. Dua Lipa
4. "Slide" – Calvin Harris feat. Frank Ocean & Migos
3. "Bounce Back" – Big Sean
2. "Greenlight" – Lorde
1."Something Just Like This" – Chainsmokers feat. Coldplay
They've managed to hold on yet again, Chainsmokers and Coldplay will finish out the week at the top of the show! As always, remember you can determine the outcome, when the show resumes Monday Night please be sure to let your voice be heard! Call 217-844-HITS, text 217-218-0288, or leave your vote at The Party's Facebook Page!