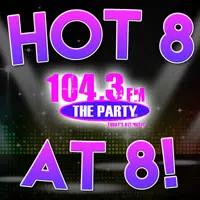 It's Hump Day and time for your mid-point Hot 8@8 Countdown for the week presented by Smoky's House BBQ in Charleston! Of course it's all part of the Night Club with Carman and your votes have been changing daily. It's been a little interesting thus far, because different songs have come and gone, with the only constant being "Something Just Like This" taking #1. Can it spend its 11th night at #1 since it's run on being featured on the countdown??? Check out tonight's results!
8. "Still Got Time" – Zayn feat. Party Next Door (Re-Entry!)
7. "Play That Song" – Train
6. "Greenlight" – Lorde
5. "Scared to be Lonely" – Martin Garrix feat. Dua Lipa
4. "At My Best" – Machine Gun Kelly feat. Hailee Steinfield
3. "Bounce Back" – Big Sean
2. "Slide" – Calvin Harris feat. Frank Ocean & Migos
1."Something Just Like This" – Chainsmokers feat. Coldplay
That marks an 11th night for Chainsmokers and Coldplay. Always remember you can have your voice heard by telling us your favorite new songs! Simply vote weekdays from 5-7:30 PM. Call 217-844-HITS, text 217-218-0288, or leave your vote at The Party's Facebook Page!