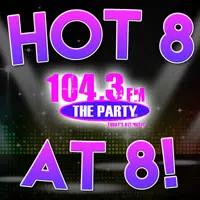 It's FRIDAY!!! 🙂 Welcome back to The Night Club with Carman and we've got your final Hot 8@8 Countdown with Smoky's House BBQ in Charleston for the week of April 7th-14th coming your way now! Tonight there is a lot riding on our current #1 song because if it can close out the week, it will mark the 14th night at #1 for Chainsmokers and Coldplay, if they can make it beyond 16 nights, they will have the longest running #1 song for 2017 on the countdown. Check out what your votes helped decide below…also one new entry as well!
8. "Passion Fruit" – Drake (Debut!)
7. "Play That Song" – Train
6. "Still Got Time" – Zayn feat. Party Next Door
5. "Scared to be Lonely" – Martin Garrix feat. Dua Lipa
4. "At My Best" – Machine Gun Kelly feat. Hailee Steinfield
3. "Bounce Back" – Big Sean
2. "Slide" – Calvin Harris feat. Frank Ocean & Migos
1."Something Just Like This" – Chainsmokers feat. Coldplay
That marks 14 nights and all week #1 for "Something Just Like This!" Please remember you help determine the outcome, so when the countdown continues Monday, be sure to cast your vote once more. As always it's open from 5-7:30 pm and your voice can be heard by either calling 217-844-HITS, texting 217-218-0288, or leaving your vote at The Party's Facebook Page!