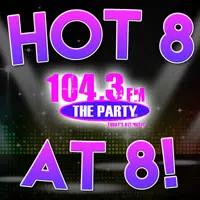 Happy Tuesday and welcome back to another Night Club with Carman! Once again, it's time to count down some of the hottest new singles on the party airwaves all helped determined by you, for it's The Hot 8@8 Countdown with Smoky's House BBQ in Charleston! Now last night we saw a brand new song reach #1…Calvin Harris with Frank Ocean & Migos "Slide", can the all star collaboration go a 2nd night, or could Chainsmokers and Coldplay reclaim their throne??? Check out the results!
8. "Scared to be Lonely" – Martin Garrix feat. Dua Lipa
7. "Passion Fruit" – Drake
6. "Bounce Back" – Big Sean
5. "Sign of the Times" – Harry Styles
4. "Still Got Time" – Zayn feat. Party Next Door
3. "Something Just Like This" – Chainsmokers feat. Coldplay
2. "At My Best" – Machine Gun Kelly feat. Hailee Steinfield
1."Slide" – Calvin Harris feat. Frank Ocean & Migos
The counting is on for Calvin Harris! That marks 2 nights now at the top of the show! Please remember, you help decide the outcome Monday through Friday by casting your ballots. Please be sure to call 217-844-HITS, text 217-218-0288, or leave your vote at The Party's Facebook Page!