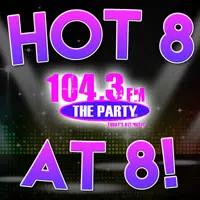 Whether you choose to call it Wednesday or Hump Day, here in The Night Club with Carman we refer to it as your mid-point Hot 8@8 Countdown with Smoky's House BBQ in Charleston! Now last night, for the second night in a row, the top song belonged to Calvin Harris, Frank Ocean, & Migos for "Slide" remains the song to beat. Check out what songs made the cut below and also on re-entry as well!
8. "Play That Song" – Train (Re-Entry!)
7. "Passion Fruit" – Drake
6. "Bounce Back" – Big Sean
5. "Still Got Time" – Zayn feat. Party Next Door
4. "Sign of the Times" – Harry Styles
3. "Something Just Like This" – Chainsmokers feat. Coldplay
2. "At My Best" – Machine Gun Kelly feat. Hailee Steinfield
1."Slide" – Calvin Harris feat. Frank Ocean & Migos
No sliding tonight for the three man collaboration, that marks three nights in a row now! As always you can help determine the outcome, please be sure to cast your vote weekdays from 5-7:30 PM. Simply call 217-844-HITS, text 217-218-0288, or leave your vote at The Party's Facebook Page!