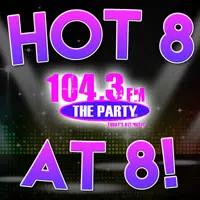 Friday is here once more in The Night Club with Carman! Which means, we have your final Hot 8@8 Countdown with Smoky's House BBQ in Charleston for the week of April 17th through the 21st. Now all this week, are only song to be at #1 has been "Slide" from Calvin Harris, Frank Ocean, & Migos. So far they have a 4 night total at #1, can they go five and close out the week solid??? See what your votes helped decide tonight!
8. "Play That Song" – Train
7. "Something Just Like This" – Chainsmokers feat. Coldplay
6. "Passion Fruit" – Drake
5. "Castle on the Hill" – Ed Sheeran
4. "Still Got Time" – Zayn feat. Party Next Door
3. "Sign of the Times" – Harry Styles
2. "Slide" – Calvin Harris feat. Frank Ocean & Migos
1."AT My Best" – Machine Gun Kelly feat. Hailee Steinfield
So close, but not quite, "Slide" takes a one spot tumble and allows room for Machine Gun Kelly & Hailee Steinfield to take over the top spot for the first time! They end the week strong, but can they make it when the countdown resumes on Monday? As always, you have the power to help decide the outcome. Weekdays please be sure to let your voice be heard by casting your vote by calling 217-844-HITS, texting 217-218-0288, or leaving your vote at The Party's Facebook Page!