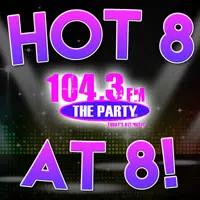 It's only Tuesday, but already this week is flying by! Welcome back to The Night Club with Carman and another round of The Hot 8@8 Countdown with Smoky's House BBQ in Charleston! Now last night we saw one new song make it's way onto the show, but Machine Gun Kelly & Hailee Steinfield held onto the top spot for a second time with "At My Best". Can the two go for a best 3 out of 3 tonight? See what your votes helped decide below!
8. "Passion Fruit" – Drake
7. "Now or Never" – Halsey
6. "Play That Song" – Train
5. "Slide" – Calvin Harris feat. Frank Ocean & Migos
4. "Castle on the Hill" – Ed Sheeran
3. "Still Got Time" – Zayn feat. Party Next Door
2. "Sign of the Times" – Harry Styles
1. "At My Best" – Machine Gun Kelly feat. Hailee Steinfield
3 out of 3 indeed, the two continue to dominate their reign at #1 on the show! Please remember every weeknight you have the power to let your voice be heard. Please be sure to cast your vote from 5-7:30 P.M by either calling 217-844-HITS, texting 217-218-0288, or leaving your vote at The Party's Facebook Page!