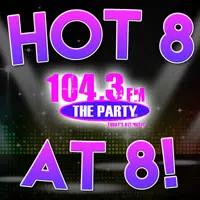 Happy Wednesday! Welcome to the Night Club with Carman and it's time for what I like to call  your mid-point Hot 8@8 Countdown for the week with Smoky's House BBQ in Charleston! Now last night we saw Machine Gun Kelly and Hailee take #1 for the third night in a row with "At My Best", can they go a fourth night or has something new claimed the top spot? See what your votes helped decide tonight!
8. "Play That Song" – Train
7. "Slide" – Calvin Harris feat. Frank Ocean & Migos
6. "Passion Fruit" – Drake
5. "Now or Never" – Halsey
4. "Castle on the Hill" – Ed Sheeran
3. "Still Got Time" – Zayn feat. Party Next Door
2. "At My Best" – Machine Gun Kelly feat. Hailee Steinfield
1. "Sign of the Times" – Harry Styles
Just three nights, and MGK with Hailee take a one step backwards, it makes room for a first timer at #1 on the show, Harry Styles! It's Harry's first solo single and you helped place it at the top! Please remember you help decide the outcome every weeknight by casting your ballots from 5-7:30 P.M. Just be sure to either call 217-844-HITS, text 217-218-0288, or leave your vote at The Party's Facebook Page.