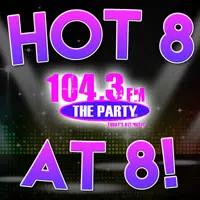 It's another night here in The Night Club with Carman and time once more for your Throwback Thursday edition of The Hot 8@8 Countdown with Smoky's House BBQ in Charleston!!! So with that said of course some fun for tonight's Pop Culture Trivia Question…an old school tune spun backwards for your chance to win some free grub to Smoky's! Check out what your votes helped decide and also remember, last night we saw Harry Styles take the top spot for the first time with "Sign of the Times"…..
8. "I Love You" – Axwell Ingrosso feat. Kid Ink (Debut!)
7. "Play That Song" – Train
6. "Now or Never" – Halsey
5. "Passion Fruit" – Drake
4. "Still Got Time" – Zayn feat. Party Next Door
3. "Castle on the Hill" – Ed Sheeran
2. "At My Best" – Machine Gun Kelly feat. Hailee Steinfeld
1."Sign of the Times" – Harry Styles
That's a second night at the top for Harry Styles, not too shabby for his first solo single free from One Direction. Please remember, you help determine the outcome so if you would like to see Harry close out the week and the month of April at #1, you decide by casting your vote. Please do so weeknights from 5-7:30 P.M. by either calling 217-844-HITS, texting 217-218-0288, or leaving your vote at The Party's Facebook Page!