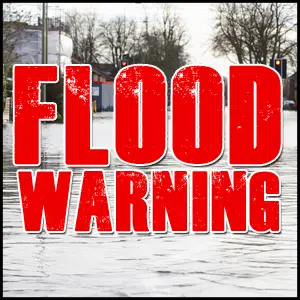 The National Weather Service has issued a Flood Warning until 12:00P.M. (Central Day Time) for the following Illinois counties :  Coles,  Lawrence, Edgar,  Moultrie, Clark, Richland, Cumberland, Clay,  Douglas, Effingham, Jasper, Shelby, and Vermilion County.
The warning was issued after the Doppler radar indicated Thunderstorms with heavy rainfall that will cause flooding.
The following rivers for our Indiana listening area are also effected with flooding: Big Walnut Creek, Driftwood River, East Fork White River,  Eel River,  Flatrock River, Mississinewa River, Muscatatuck River, Sugar Creek, Tippecanoe River, Wabash River, White River, Wildcat Creek, Youngs Creek.
The Wabash River in Clinton is under Flood Warning until further notice.