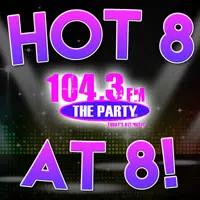 Happy Hump Day! It's the first Wednesday of May and a rainy one at that. Anyway's Wednesday nights are always fun when you're hanging out in The Night Club with Carman and we've reached the time of the night for your mid-point Hot 8@8 Countdown with Smoky's House BBQ in Charleston. Now last night, Harry Styles marked his fifth night in a row at #1 on our show with "Sign of the Times", check out tonight's results to see if he can go a sixth, also no new entries tonight just a few songs doing a flip-flop….
8. "I Love You" – Axwell Ingrosso feat. Kid Ink
7. "I Spy" – Kyle feat. Lil' Yachty
6. "At My Best" – Machine Gun Kelly feat. Hailee Steinfeld
5. "Passion Fruit" – Drake
4. "Still Got Time" – Zayn feat. Party Next Door
3. "Now or Never" – Halsey
2. "Castle on the Hill" – Ed Sheeran
1."Sign of the Times" – Harry Styles
No slowing down Harry yet, six nights in a row!!! Every night you have a say to help determine the outcome. Just be sure to have your voice heard by casting your votes from 5-7:30 P.M. Vote by calling 217-844-HITS, texting 217-218-0288, or leaving your request at The Party's Facebook Page!