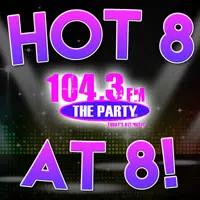 Happy Monday! Hope you had a fantastic weekend and now that's it's back to another work week, once more here in The Night Club with Carman, we've reached the Hot 8@8 Countdown with Smoky's House BBQ in Charleston! It's your first for the week and a little refresher where we left things on Friday….for the 7th night Harry Styles was the song to beat with "Sign of the Times." See what your votes helped decide below and also one new entry as well!
8. "I'm the One" – DJ Khaled feat. Justin Bieber & Chance the Rapper (Debut!)
7. "Nothing Holding Me Back" – Shawn Mendes
6. "Passion Fruit" – Drake
5. "I Spy" – Kyle feat. Lil' Yachty
4. "The Cure" – Lady Gaga
3. "Now or Never" – Halsey
2. "Sign of the Times" – Harry Styles
1. "Castle on the Hill" – Ed Sheeran
New week and brand new #1 on the show! Ed Sheeran takes the top spot for the first time with "Castle on the Hill." Now his other recent single "Shape of You" has had the longest running song at the top thus far for 2017 with 16 nights in a row. Can castle maybe surpass that? You are the judge by casting your ballots. Please do so weeknights from 5-7:30 p.m. by either calling 217-844-HITS, texting 217-218-0288, or leaving your votes at The Party's Facebook Page!