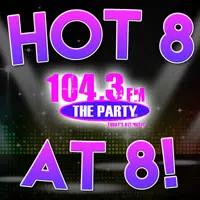 Happy Tuesday and welcome back to The Night Club with Carman!! Once again we've reached the time of the night for the Hot 8@8 Countdown with Smoky's House BBQ in Charleston and last night we saw a new song take over the top spot…Ed Sheeran with "Castle on the Hill" bringing our reigning champ Harry Styles down a peg. Can Ed go a second night at the top or could Harry reclaim the top spot??? Check out what your votes helped decide below!
8. "Believer" – Imagine Dragons (Debut!)
7. "I'm the One" – DJ Khaled feat. Justin Bieber & Chance the Rapper
6. "I Spy" – Kyle feat. Lil Yachty
5. "There's Nothing Holding Me Back" – Shawn Mendes
4. "The Cure" – Lady Gaga
3. "Now or Never" – Halsey
2. "Sign of the Times" – Harry Styles
1."Castle on the Hill" – Ed Sheeran
That's night #2 for Castle and the count is on! Please remember every weeknight you have the power in helping determine what songs make the cut. Please remember to cast a quick vote anytime between 5-7:30 p.m. simply by calling 217-844-HITS, texting 217-218-0288, or leaving your vote at The Party's Facebook Page!