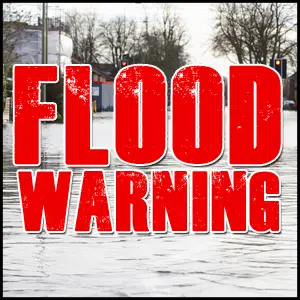 The National Weather Service has issued 2 Flood Warnings.
First, the National Weather Service in Lincoln IL has issued a flood warning for the following rivers in Illinois:  Embarras River at Ste. Marie affecting Crawford and Jasper Counties
Second, the National Weather Service in Lincoln has issued a Flood Warning for until 2:15pm today (Thursday, May 11) for the following counties:
Lawrence County, Southern Crawford County, Southern Jasper County, Richland County, Clay County and Southern Effingham county.  Some locations that will experience flooding include… Olney, Flora, Lawrenceville, Newton, Sumner, Louisville, Clay City, Noble, Edgewood, Bible Grove, Flat Rock, Ste. Marie, Claremont,Iola, Sailor Springs, Russellville, New Hebron, Chauncey, Hardinville and Ingraham.  This includes Interstate 57 between mile markers 142 and 150.
PRECAUTIONARY/PREPAREDNESS ACTIONS:  Turn around, don`t drown when encountering flooded roads. Most flood deaths occur in vehicles.  Be especially cautious at night when it is harder to recognize the dangers of flooding.  A Flood Warning means that flooding is imminent or occurring. All interested parties should take necessary precautions immediately.