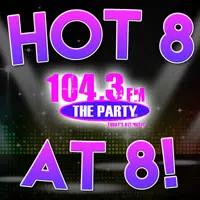 It's been a bit of a crazy week, but we survived and finally made it to Friday!!! Welcome back to The Night Club with Carman as we kick off your final Hot 8@8 Countdown for the week of May 8th through the 12th with Smoky's House BBQ in Charleston!!! Now last night, something rare, but not unusual occurred on the show…Harry Styles re-took the #1 spot with "Sign of the Times". Harry held on 7 nights straight before Ed Sheeran took over for three nights earlier in the week. So which song will take the top spot tonight to close out the week??? See below to see what you helped decide!
8. "I Spy" – Kyle feat. Lil' Yachty
7. "Kissing Strangers" – DNCE feat. Nicki Minaj
6. "I'm the One" – DJ Khaled feat. Justin Bieber & Chance the Rapper
5. "There's Nothing Holding Me Back" – Shawn Mendes
4. "The Cure" – Lady Gaga
3. "Now or Never" – Halsey
2. "Castle on the Hill" – Ed Sheeran
1."Sign of the Times" – Harry Styles
That marks a grand total of 9 nights for Harry to be #1 with his first solo single! Anything can happen with the countdown because you help determine the outcome. When the show continues on Monday night please remember to have your voice heard by casting your vote from 5-7:30 p.m. Just call 217-844-HITS, text 217-218-0288, or leave your vote at The Party's Facebook Page!