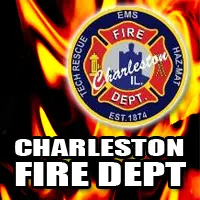 According to a press release from the CFD, on Monday May 15th the Charleston Fire Department was dispatched to 111 3rd St, in Charleston at 5:35 pm for a report of a structure fire. Upon arrival crews found smoke coming from the rear of the structure. Firefighters quickly entered the structure and found fire in the rear bedroom. The fire was quickly brought under control.
Fire Damage was contained to the rear bedroom, but there was smoke damage throughout the house. No one was home at the time of the fire. No injuries were reported.
The cause of the fire in still under investigation by the Charleston Fire Department and the Office of the State Fire Marshall. The residents are being assisted by the American Red Cross for housing needs. Charleston Fire Department was assisted by the Mattoon Fire Department.