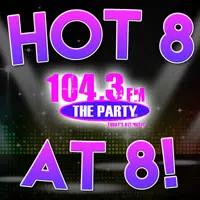 Already Wednesday! Welcome to what I like to call your mid-point Hot 8@8 Countdown for the week with Smoky's House BBQ in Charleston all part of the Night Club with Carman! Now for the past 3 weeks or so it's been an all out battle between Harry Styles and Ed Sheeran for the top spot on the show. The two have been going back-n'-forth between spots 1 & 2. Which one will prevail tonight, or could something new sneak in and take over? Check out what you helped decide tonight and also we have one re-entry as well!
8. "Believer" – Imagine Dragons (Re-Entry!)
7. "I Spy" – Kyle feat. Lil' Yachty
6. "Now or Never" – Halsey
5. "Kissing Strangers" – DNCE feat. Nicki Minaj
4. "There's Nothing Holding Me Back" – Shawn Mendes
3. "I'm the One" – DJ Khaled feat. Justin Bieber & Chance the Rapper
2. "Sign of the Times" – Harry Styles
1."Castle on the Hill" – Ed Sheeran
Ed Sheeran dominates again! So while not consecutively, "Castle on the Hill" has now spent 6 nights at #1 on our show. Please remember every weeknight from 5-7:30 p.m. voting opens and it's your chance to have your voice be heard, by telling us some of your absolute favorite new singles on the Party's airwaves. Please be sure to vote by either calling 217-844-HITS, texting 217-218-0288, or leaving your vote at The Party's Facebook Page!